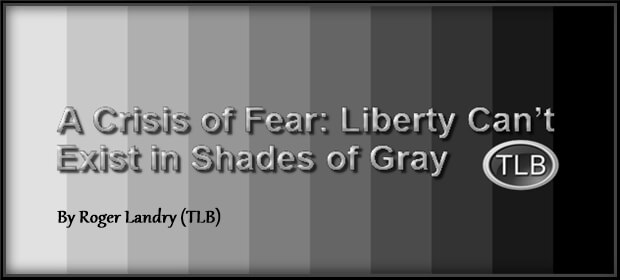 A Crisis of Fear: Liberty Can't Exist in Shades of Gray
Fear is the most effective form of control over mans mind ever conceived by mankind …
To see the reality in this statement we need look no further than our own country. In the late 1950's and early 1960's, when I was a young boy the word terrorist had no real meaning other than a word in the dictionary. Today the mere mention of this word strikes fear into the hearts and minds of just about every American. Why, what has transformed this country from a self-assured strong-willed and confident nation, into a nation who sees terrorists behind every rock, and in the eyes of every Muslim regardless of their education or cast in life … ?
The answer to this question is FEAR, the tool of our leaders and their masters, to be wielded against We The People to subjugate us in a slow but steady progression, in almost tolerable bites until we lose sight of what freedom or liberty actually means. Liberty is literally being redefined by those who would control us.
I penned the original article this is based on about four years ago … but as any who are aware can see things have only gotten worse, especially in reference to an active deep state coupe attempt against a duly elected president, and the tyranny against We The People this represents … so I saw the need to update and republish this commentary. In America today the fear is chronic and thus the tyranny is emboldened. We now live in a society that no longer resembles the America I was born into. But what was the origin of most of what we suffer today?
A vast majority of this tyranny started with 9/11 and the (false) realization that 19 Muslims with box cutters thwarted the combined security of multiple nations including the worlds only remaining superpower. A majority of Americans and the rest of the world now hold steadfast to the belief that this government has lied to us about the true happenings of 9/11, and the reality is very dark and treacherous. But due to the perpetual "war on terror" the veil of fear hangs over America, almost unabated …
Regardless what transpired on 9/11, America, as a result of this catastrophic event began the slow but steadfast erosion of liberty under the guise of protection. Protection from the evil Muslim terrorists who would kill us all because of our freedoms and liberties … REALLY ??
Now any rational mind could easily debunk this notion owing to the fact that no nation on this earth possessed the military might or the suicidal desire to attack the USA, especially those far less developed nations we perpetrate perpetual warfare against even today. But fear is not rational and tends to override most fact based reasoning, especially if this fear is being reinforced constantly, hourly, daily by a corrupted and complicit mass media system run by the same oligarchs who own our leaders.
"We cannot defend freedom abroad by deserting it at home" Edward R. Murrow
It is through a constantly reinforced fear that one tyrannical piece of legislation or executive order after another was instituted in the name of protecting us. These are all well-known to us and combined have the effect of totally undermining the Bill of Rights and indeed the Constitution to the point that they can be resigned to the scrap heap of obsolescence never to be called upon again in the capacity of championing our liberty (or so our supposed leaders would hope). It is only through the massive and continuous institution of fear that this may come to fruition.
This program really came to light starting with The Patriot Act, then came Indefinite Detention, followed by HR347, and progressing to the government's ability to assassinate US citizens without due process, and a litany of other fear enhancing and freedom robbing maneuvers, we watched, and far too many of us sheepishly acquiesced to, as tyranny was unfolded in stages right before our ever more fearful eyes.
If you listened to our leaders every time a piece of this legislative tyranny was perpetrated, the excuse was always the same …
"We need to balance our rights and liberty with the need to protect this country"
… inevitably turning the fact of liberty into degrees of liberty, progressing to smaller, and still even smaller degrees as time advanced.
Now what we are left with is a hollow sound every time one of us uses the word Liberty, and we are lost in shades of gray …
"When liberty is taken away by force it can be restored by force. When it is relinquished voluntarily by default it can never be recovered" Dorothy Thompson
It has been stated by this government that the war on terror will continue for decades … America as we knew it will die from within, long before victory is ever declared!
••••
Final episode of Freedom Watch:
"When the government fears the people there is Liberty, but when the people fear the government there is Tyranny" Judge Napolitano
There are an infinite number of shades of gray between black and white with none being an absolute.
Liberty is an all or nothing proposition and cannot be issued in degrees, or shades of gray. Liberty either exists or it does not, this is black or white. Any compromise in its totality initiates a process of negating its practice fatally!
WAKE UP, Bury Your FEAR, and LIVE FREE !!!
••••
About the Author: Roger Landry (TLB) spent about three decades of his adult life either in, or working for the military, with about two decades working directly for the Military Industrial Complex facilitating DOD contracts. His awakening to Political, Economic, and Health realities was less than seven short years ago. Since that time he has founded The Liberty Beacon Project (TLB) consisting of over a dozen proprietary global websites, media projects such as TLBTV, and partner websites across the planet. He contributes regularly to multiple forums both in and outside of TLB Project. Most of his work can be found on the TLB Flagship website TheLibertyBeacon.com
••••
Click on the image below to visit TLB Project on twitter …
The views expressed here belong to the author and do not necessarily reflect our views and opinions.
TLB has other above the fold articles, videos and stories available by clicking on "HOME" at the top of this post. Never miss a new post, sign up for E-Mail alerts at the bottom of the Home page and get a link dropped right to your in-box.
TheLibertyBeacon.com contains copyrighted material the use of which has not always been specifically authorized by the copyright owner. We are making such material available to our readers under the provisions of "fair use" in an effort to advance a better understanding of political, economic and social issues. The material on this site is distributed without profit to those who have expressed a prior interest in receiving it for research and educational purposes. If you wish to use copyrighted material for purposes other than "fair use" you must request permission from the copyright owner.
Be the first to comment