Democrat Nadler Vows "Immediate" Legislation In Response To Gun Violence
(ZeroHedge)  Confirming the new Democrat-controlled House will press for major changes in US gun laws, following the latest mass shooting which took place overnight in Thousand Oaks, California, which left at least 13 people, including the shooter, dead, the incoming House Judiciary Committee Chairman, Democrat Jerry Nadler (Pictured here) said on twitter that he will immediately "get to work on legislation that includes universal background checks to respond to the scourge of gun violence."
He also said described the shooting as "senseless and preventable."
(((Rep. Nadler)))
✔
@RepJerryNadler
We must find a way to stop the senseless, and many times preventable killings that are robbing our country of innocent lives. In the new Congress, we will immediately get to work on legislation that includes universal background checks to respond to the scourge of gun violence.
"This guy just came out of nowhere and came out with a gun and shot people": https://cnn.it/2Du3xCO
What we know about the Thousand Oaks shooting:
– At least 12 dead, including sheriff's deputy
– Suspected gunman also dead
– Multiple injured
Updates: https://cnn.it/2QtJDL2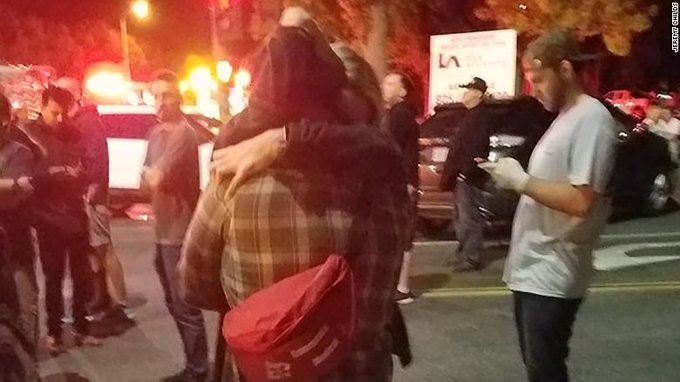 ---
The incoming Democratic Judiciary Committee chair will be busy: in addition to taking on the Republicans on gun legislation, Nadler will also be the man in charge of any investigation into Kavanaugh.
According to the Federalist, [Nadler and a friend] discussed two routes for investigating new Supreme Court Justice Kavanaugh. The first is to go after the FBI for how they handled the investigation into unsubstantiated claims he sexually assaulted women. "They didn't even do a half-ass job," he said. "They didn't interview 30 witnesses who said 'Interview me! I've got a lot to say!'" he said, while mimicking people waving their hands to be called on.
His other plan is to go after Kavanaugh because "there's a real indication that Kavanaugh committed perjury." He claimed that The Atlantic published an article about the allegations of a third woman. Then he claimed that when Kavanaugh was "asked at a committee hearing under oath when he first heard of the subject, he said, 'When I'd heard of the Atlantic article.' But there is an email chain apparently dating from well before that from him about 'How can we deal with this?'" Nadler told the caller…

"The worst-case scenario — or best case depending on your point of view — you prove he committed perjury, about a terrible subject and the Judicial Conference recommends you impeach him. So the president appoints someone just as bad."
One thing is certain: with Democrats planning all out war against Trump and a tsunami of legal challenges for decisions taken over the past two years, Nadler – whose name may not be known by most – soon will be.
*********
(TLB) published this story from ZeroHedge as compiled by Tyler Durden with our thanks for the coverage.
••••
The Liberty Beacon Project is now expanding at a near exponential rate, and for this we are grateful and excited! But we must also be practical. For 7 years we have not asked for any donations, and have built this project with our own funds as we grew. We are now experiencing ever increasing growing pains due to the large number of websites and projects we represent. So we have just installed donation buttons on our main websites and ask that you consider this when you visit them. Nothing is too small. We thank you for all your support and your considerations … (TLB)
••••

The views expressed here belong to the author and do not necessarily reflect our views and opinions.
TLB has other above the fold articles, videos and stories available by clicking on "HOME" at the top of this post. Never miss a new post, sign up for E-Mail alerts at the bottom of the Home page and get a link dropped right to your in-box.
TheLibertyBeacon.com contains copyrighted material the use of which has not always been specifically authorized by the copyright owner. We are making such material available to our readers under the provisions of "fair use" in an effort to advance a better understanding of political, economic and social issues. The material on this site is distributed without profit to those who have expressed a prior interest in receiving it for research and educational purposes. If you wish to use copyrighted material for purposes other than "fair use" you must request permission from the copyright owner.
Be the first to comment