New Mexico Judge Releases Jihadi Terrorist Camp Suspects Despite Pleas By Sheriff, FBI
via ZeroHedge
A New Mexico judge on Monday agreed to release five suspects arrested on child abuse charges at a New Mexico camp, against the wishes of both the sheriff's department and the FBI, which described the group as "heavily armed and considered extremist(s) of the Muslim belief."
Judge Sarah Backus ordered the suspects – Siraj Ibn Wahhaj, 40, Lucas Morton, 40, Jany Leveille, 35, Hujrah Wahhaj, 37, and Subhannah Wahhaj, 35 – released on $20,000 bond each Monday evening, reports the Taos County Sheriff's Office. They will be required to wear ankle monitors and maintain weekly contact with their attorneys, and were ordered to cooperate with the New Mexico Children Youth and Families division (CYFD) where the eleven children the sheriff says were being trained to commit school shootings, are being held in protective custody.
Despite authorities finding a dead child's remains on the compound, and an alleged letter sent from one suspect to his brother inviting him to come to New Mexico and die as a martyr, Judge Backus ruled that the state failed to meet the burden of showing the suspects were a danger to the community after several hours of testimony.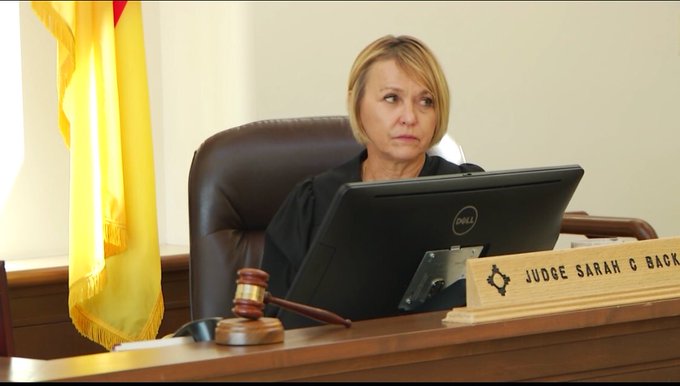 State prosecutors outlined evidence suggesting that at least some of the suspects could have been planning some sort of attack. They said Siraj Wahhaj – who also faces child abduction charges from Georgia after allegedly taking his 3-year-old son – took several weapons classes before coming to New Mexico, and books found on the compound focused on how to build firearms at home.

Various weapons and ammo were found during the raid on August 3, and several more firearms were discovered in subsequent searches.The children were allegedly taught how to load and fire assault rifles.

The 11 kids found at the compound ranged in age from 1 to 15, authorities said. Since the raid they have been placed in the protective custody of state welfare workers with the Children, Youth and Families Department. –KOB.com
According to FBI agent Travis Taylor, according to interviews with two teens from the compound, Siraj Wahhaj would lead rituals while reading from the Quran, which centered on his now-dead son – who he kidnapped from his mother in Jonesboro, Georgia in order to perform an exorcism to cure his seizures.
***
We're sure Judge Backus's ruling has nothing to do with the fact that the training camp's ringleader, Siraj Ibn Wahhaj, is the son of a famous New York Imam, Siraj Wahhaj – an allegedunindicted co-conspirator in the 1993 WTC bombing, who testified as a character witness for the notorious "blind sheikh" Omar Abdel Rahman – who was convicted in 1995 of plotting the attack, according to CBS News. The senior Wahhaj was also described by Women's March founder and liberal Islamic activist Linda Sarsour as a "mentor," and an "amazing man."
Taos County Sheriff Jerry Hogrefe said that during the initial serving of the search warrant, their tactical team came upon children holding boxes of ammo, and at least one child was armed when he was found.
While cross-examining of Hogrefe, the suspects' defense attorneys each took their chance to try and distance the suspects as far from the weapons as possible, and the connotations of violence they imply. One defense attorney suggested it's "prudent" that children learn how to use firearms safely, which Hogrefe agreed to.

The sheriff also confirmed that Alcohol, Tobacco and Firearms is investigating the legalities surrounding the occupants' possession of firearms.

Another defense attorney pointed out, and Hogrefe confirmed, that the compound's occupants did not shoot at the tactical team as they raided the compound. He did say, however, that Morton was "struggling" and "resisting" while being arrested by deputies. –KOB.com
In reaction to Judge Bacuss's decision, New Mexico Governor Susana Martinez said she "strongly disagreed" with the outcome of the hearing, stating "Unfortunately, it highlights how extreme the New Mexico Supreme Court has been in dictating pretrial release for all kinds of dangerous criminals."
Read the Sheriff's August 4 statement here:
For immediate release
August 4, 2018
Issued by Sheriff Jerry Hogrefe
Two males from Georgia are in custody after TCSO served a search warrant at a makeshift residence that is best described as a "compound" in Amalia, NM. Eleven children ranging in age from 1 to 15-years-old were also taken in protective custody and later turned over to New Mexico Children Youth and Families Department (CYFD) for their own health and safety. Three women believed to be the children's mothers …
---
*************************************************
(TLB) published this article from ZeroHedge with our thanks for the coverage.
••••
The Liberty Beacon Project is now expanding at a near exponential rate, and for this we are grateful and excited! But we must also be practical. For 7 years we have not asked for any donations, and have built this project with our own funds as we grew. We are now experiencing ever increasing growing pains due to the large number of websites and projects we represent. So we have just installed donation buttons on our main websites and ask that you consider this when you visit them. Nothing is too small. We thank you for all your support and your considerations … TLB
••••

The views expressed here belong to the author and do not necessarily reflect our views and opinions.
TLB has other above the fold articles, videos and stories available by clicking on "HOME" at the top of this post. Never miss a new post, sign up for E-Mail alerts at the bottom of the Home page and get a link dropped right to your in-box.
TheLibertyBeacon.com contains copyrighted material the use of which has not always been specifically authorized by the copyright owner. We are making such material available to our readers under the provisions of "fair use" in an effort to advance a better understanding of political, economic and social issues. The material on this site is distributed without profit to those who have expressed a prior interest in receiving it for research and educational purposes. If you wish to use copyrighted material for purposes other than "fair use" you must request permission from the copyright owner.
Be the first to comment