Sky News cuts off top British general after he asks 'Why would Syria launch a gas attack now?'
RT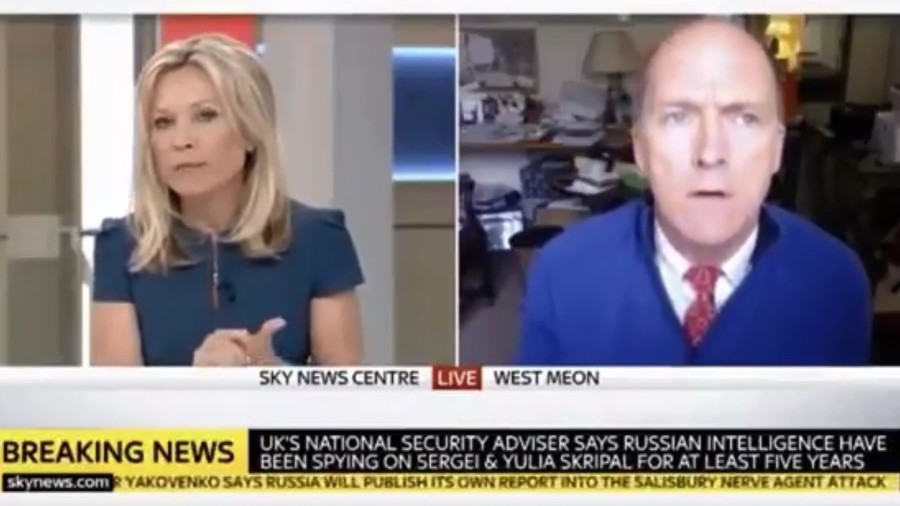 UK broadcaster Sky News cut short Major-General Jonathan Shaw, formerly one of the British Army's most senior officers, in mid-sentence, as he cast doubt on London's narrative on the alleged Syrian government gas attack in Douma.
News presenter Samantha Washington asked Shaw a narrowly-worded question, asking if Russian denials about the government's responsibility would mean it's necessary for any UK intervention in Syria to be approved by parliament.
But Shaw, who retired in 2012 to become a security expert, wanted to take the discussion back a step.
"Quite apart from all that, the debate that seems to be missing from this is… What possible motive could have triggered Syria to launch this chemical attack at this time in this place?" he asked.
"The Syrians are winning, don't take my word for it, take the American military's word for it," Shaw said.
He then mentioned the words of Joseph Votel, the Commander of United States Central Command, who conceded last month that Bashar Assad "has won the war," and US President Donald Trump, who recently announced the US' intentions to pull its troops out of the conflict.
As Shaw continued his thought, saying: "… And then suddenly you get this," he was interrupted by Washington, who interjected with "I am very sorry, you have been very patient for us, but we do need to leave it there," before going to adverts.
Sky has not clarified whether it cut the interview, which only lasted for two minutes, due to editorial or time considerations. The Mirror reported sources within the Murdoch-owned company claiming that a"hard" ad break was scheduled.
Shaw, 59, whose 30-year career spanned from the Falklands to Kosovo to commanding the UK forces in Iraq in 2006, can by no means be described as a Kremlin stooge, and, even in a previous response within the same exchange, he accused Moscow of "muddying the waters."
His dissention from the official UK line, which declares that Assad was "highly likely" to be responsible for the April 7 attack, was uploaded to social media and shared thousands of times in outrage.
************
ER recommends other articles by
RT
.
Published to The Liberty Beacon from EuropeReloaded.com
••••
The Liberty Beacon Project is now expanding at a near exponential rate, and for this we are grateful and excited! But we must also be practical. For 7 years we have not asked for any donations, and have built this project with our own funds as we grew. We are now experiencing ever increasing growing pains due to the large number of websites and projects we represent. So we have just installed donation buttons on our main websites and ask that you consider this when you visit them. Nothing is too small. We thank you for all your support and your considerations … TLB
••••
The views expressed here belong to the author and do not necessarily reflect our views and opinions.
TLB has other above the fold articles, videos and stories available by clicking on "HOME" at the top of this post. Never miss a new post, sign up for E-Mail alerts at the bottom of the Home page and get a link dropped right to your in-box.
TheLibertyBeacon.com contains copyrighted material the use of which has not always been specifically authorized by the copyright owner. We are making such material available to our readers under the provisions of "fair use" in an effort to advance a better understanding of political, economic and social issues. The material on this site is distributed without profit to those who have expressed a prior interest in receiving it for research and educational purposes. If you wish to use copyrighted material for purposes other than "fair use" you must request permission from the copyright owner.
Be the first to comment