Thousands of US troops and Marines arrive in Jordan
By Shawn Snow
As tensions come to a boil in Syria over an alleged chemical attack, thousands of U.S. troops and Marines [are] gathering in neighboring Jordan for the start of a major training exercise.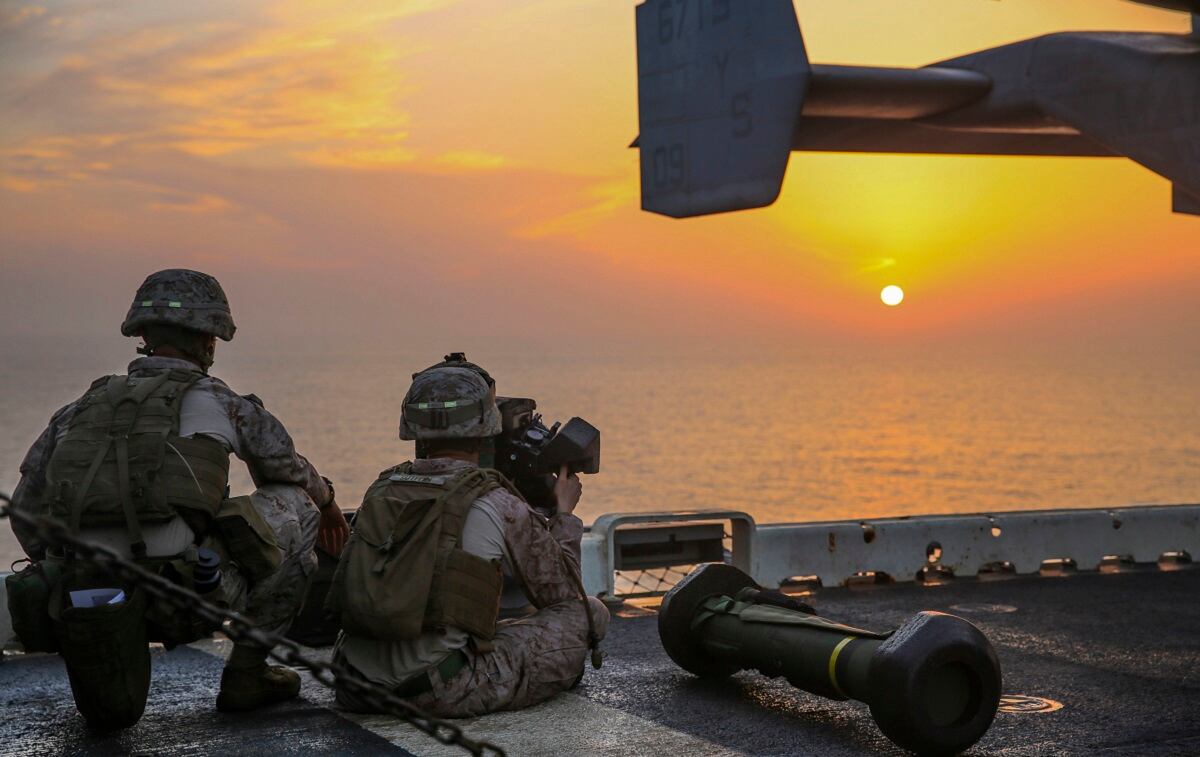 U.S. Marines assigned to the 26th Marine Expeditionary Unit (MEU) scan the horizon while transiting the Bab al-Mandeb Strait aboard the Wasp-class amphibious assault ship USS Iwo Jima (LHD 7), April 1, 2018. (Cpl. Jon Sosner/Marine Corps)
Nearly 3,600 U.S. troops, including Marines with the 26th Marine Expeditionary Unit, or MEU, will be in place Sunday for the start of a nearly two-week training exercise known as Eager Lion, military officials confirmed to Marine Corps Times.
It will be a rare display of allied firepower, which couldn't come at a more tense time as U.S. Navy warships are steadily building a presence in the Mediterranean in preparation for what analysts presume will be a tomahawk cruise missile strike on Syria.
President Donald Trump has sent mixed messages about his plans for an *attack on Syria, which the Pentagon is considering after Syrian President Bashar al-Assad allegedly used chemical weapons to attack the city of Douma. [*This article was published just before this weekends missile attack ordered by Pres. Trump. ~TLB ed.]
Last year, Eager Lion was launched from the Zarqa Jordanian military base, located near the Syrian border and roughly 100 miles from the Syrian capital of Damascus.
The exercise has routinely been viewed as a pretext for an invasion of Syria by analysts and countries aligned with the Syrian regime.
---
A massive buildup of U.S., British and Jordanian armored vehicles at the Zarqa Jordanian military base near the Syrian border — depicted in photos that have been circulating on social media — is for an annual training exercise called Eager Lion, not preparations for an invasion of southern Syria, according to officials at U.S. Central Command. 
By:
---
Last year, satellite photos indicating a massive buildup of military armored vehicles sent alarm bells through Iran, Syria's ally in its nearly eight year civil war, prompting media speculation about a pending invasion. The build-up was nothing more than the start of Eager Lion.
"Eager Lion is a major training event that provides U.S. forces and Jordan Armed Forces the opportunity to improve their collective ability to plan and operate in a coalition-type environment," according to a press release from U.S. Central Command published April 2.
"A wide variety of scenarios – from long-range bomber missions to maritime security operations to a ground force attack of a fictitious adversary – will occur throughout Jordan during the event."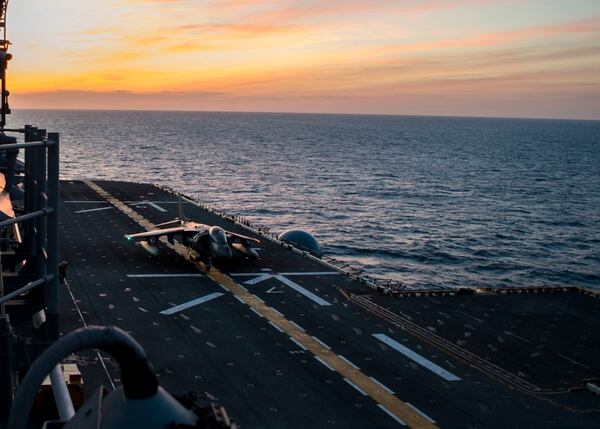 An AV-8B Harrier II jet takes off from the flight deck on the amphibious assault ship USS Iwo Jima (LHD 7), Feb. 9, 2018, in the Atlantic Ocean. (Mass Communication Specialist 3rd Class Joe J. Cardona Gonzalez/Navy)
How this year's exercise will be viewed is anyone's guess, but the thousands of troops and extensive fire power a MEU can provide certainly adds to President's Trump's calculus on potential strikes or deterrence against hostile actors in Syria.
Those embarked on the MEU include thousands of Marines, AV-8B Harriers, MV-22 Ospreys, and attack helicopters.
And departing Augusta Bay, Italy, just yesterday was the San Antonio-class amphibious transport dock New York which has onboard Marines and Marine Medium Tiltrotor Squadron VMM 162 (Reinforced), according to a post from the 26th MEU's Facebook page.
The largest ship with the MEU is the amphibious assault ship Iwo Jima, which was recently involved in a training exercise in Djibouti called Alligator Dagger before it was canceled due to two air mishaps involving an AV-8B Harrier and an CH-53 Super Stallion on April 3.
The pilots and crew in both those incidents were not seriously injured.
But, much ballyhoo has been made of recent movements by the Arleigh Burke-class guided-missile destroyers like the Donald Cook which departed the Cyprus port of Larnaca on April 9th.
Armed with tomahawk missiles, the destroyer could be an attractive option for President Trump should he decide to launch strikes against the Syrian regime of Bashar al-Assad.
But little has been made of the fact that thousands of U.S. and Jordanian troops will be training a short skip away from the Syrian border with armored vehicles and military aircraft.
*********
TLB published the article by Shawn Snow from Marine Corps Times.

Shawn Snow is the senior reporter for Marine Corps Times and a Marine Corps veteran.
.
.
••••
The Liberty Beacon Project is now expanding at a near exponential rate, and for this we are grateful and excited! But we must also be practical. For 7 years we have not asked for any donations, and have built this project with our own funds as we grew. We are now experiencing ever increasing growing pains due to the large number of websites and projects we represent. So we have just installed donation buttons on our main websites and ask that you consider this when you visit them. Nothing is too small. We thank you for all your support and your considerations … TLB
••••

The views expressed here belong to the author and do not necessarily reflect our views and opinions.
TLB has other above the fold articles, videos and stories available by clicking on "HOME" at the top of this post. Never miss a new post, sign up for E-Mail alerts at the bottom of the Home page and get a link dropped right to your in-box.
TheLibertyBeacon.com contains copyrighted material the use of which has not always been specifically authorized by the copyright owner. We are making such material available to our readers under the provisions of "fair use" in an effort to advance a better understanding of political, economic and social issues. The material on this site is distributed without profit to those who have expressed a prior interest in receiving it for research and educational purposes. If you wish to use copyrighted material for purposes other than "fair use" you must request permission from the copyright owner.
Be the first to comment