Liberal Meltdown Erupts After Trump picks his Supreme Court Nominee
by The Liberty Beacon staff
The President has picked Brett Kavanaugh as his nominee to the Supreme Court. This bit of info just in case you have been napping under a rock.
No matter who President Trump picked as his nominee, it was clear the Dems and the Alt-Left's pre-planned response would be the same…
And no suprise here… the pre-planned turn out in DC…
More pre-planning for no matter who the pick would be… Just fill in the name…
With Brett Kavanaugh as his SCOTUS pick, Mr. Trump is trying to force his repressive, bigoted agenda into our courts—and our lives. If confirmed, American citizens will hemorrhage basic rights, and corporations will have an open door for a hostile takeover.
---
.@realDonaldTrump wants to use the Supreme Court to undo what makes our country great. With his choice of Brett Kavanaugh, the Affordable Care Act is in danger. Voting rights and workers' rights are under threat. A woman's right to choose is on the line. #WhatsAtStake
---
Whether or not the Supreme Court enforces the spirit of the words "Equal Justice Under Law," is determined by the individuals who sit on that Court. Brett Kavanaugh represents a fundamental threat to that promise of equality. I will oppose his nomination to the Supreme Court.
---
Bernie Sanders (I-VT) showed up along with other prominent Democrats to get some face time and push the anti-Kavanaugh message. A man in the crowed had his own message, which he delivered with a bullhorn, "Abortion is murder."
Do you remember the President's Montana rally when he said,  "We won't back down, we won't give in,"? Warren plugged that into her prepared speech last evening…
.
(ZeroHedge) 
Afterwards, Warren called Kavanaugh a "political animal" on MSBC's 
The Last Word 
when asked about a legal opinion he wrote which concluded that Warren's brainchild – the Consumer Financial Protection Bureau (CFPB), had been handed "enormous executive power" through the 2010 Dodd-Frank act. 
Created on July 21, 2011, the CFPB was accused by an anonymous consultant of funnelling over $5 billion in collected penalties to "community organizers aligned with Democrats" as part of a multi-billion dollar slush fund, the New York Post's Paul Sperry reported in December.
The fund was shut down in January by Trump's budget chief Mick Mulvaney.
Cause of Action Institute, for example, has drawn attention to a $14 million CFPB contract with GMMB Inc., a powerful media consulting shop that has produced political ads for Obama and 2016 runner-up Hillary Rodham Clinton.

Cause of Action counsel Eric R. Bolinder cheered Mulvaney's move to review the spending, especially the millions in educational funds.

"Given CFPB's history of stark, unabashed partisanship, as exhibited by Richard Cordray's final bizarre gambit to try to seize control of the agency and put it in the hands of [deputy] Leandra English, it is great news that Acting Director Mulvaney is rooting out political bias, beginning with a comprehensive review of all spending," he told the Washington Examiner. -Washington Examiner
<
U.S. Sen. Elizabeth Warren, when asked about Brett Kavanaugh's record with @cfpb and other federal agencies: "He's a political animal. He has been for a big part of the formative years of his career."
***
Things did get nasty in NYC…
***
(ZeroHedge) Meanwhile the death threats are already starting to roll in. In response to Bernie Sanders' tweet stating "We must do everything we can to stop this nomination," Twitter user THE Gentleman, (@Abovethelaw187) whose profile which contains a #GSU18 hashtag suggesting he's a 2018 graduate of Georgia State University, tweeted "let's grab our rifles and assassinate him! #Whoswithme?!"
Those on the right, meanwhile, appeared to be having a pleasant Monday evening for the most part.
---
Cassandra Fairbanks
✔
@CassandraRules
Welp, I love Kavanaugh now.
HAPPENING NOW: As #SCOTUSPick is announced elected officials and activists of New York City have taken the streets outside Trump Tower in protest calling to #reclaimSCOTUS and hold a vote until after the midterms. #SupremeCourt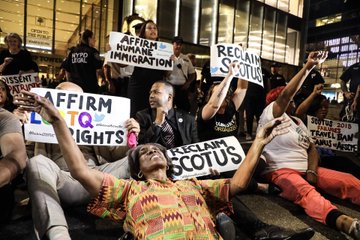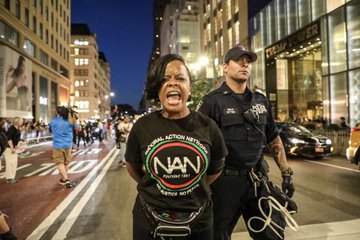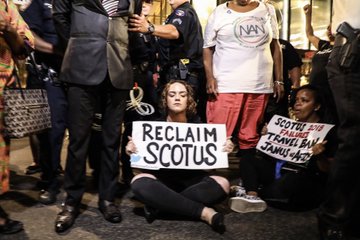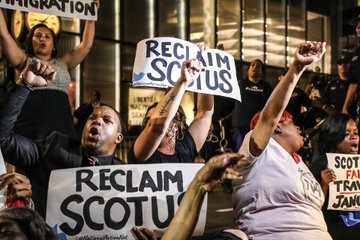 ---
Judge Kavanaugh had barely started to give his acceptance speech when libs started politicizing his daughters.

It will only get worse from here.
---
All of this simply means that we can now forward to a few news cycles full of pundits on CNN and MSNBC frothing at the mouth over [insert name here] Judge Kavanaugh's appointment to the Supreme Court.
*********
(TLB) thanks ZeroHedge for the feed of portions of content used in this article.
••••
The Liberty Beacon Project is now expanding at a near exponential rate, and for this we are grateful and excited! But we must also be practical. For 7 years we have not asked for any donations, and have built this project with our own funds as we grew. We are now experiencing ever increasing growing pains due to the large number of websites and projects we represent. So we have just installed donation buttons on our main websites and ask that you consider this when you visit them. Nothing is too small. We thank you for all your support and your considerations … TLB
••••