Bayer Slashes 12000 Jobs as Monsanto Takeover Turns Sour
Bayer, the German drugmaker that bought U.S. seed company Monsanto earlier this year, announced on Thursday the sale of a number of businesses, around 12,000 job cuts and 3.3 billion euros ($3.8 billion) in impairments, Reuters reported.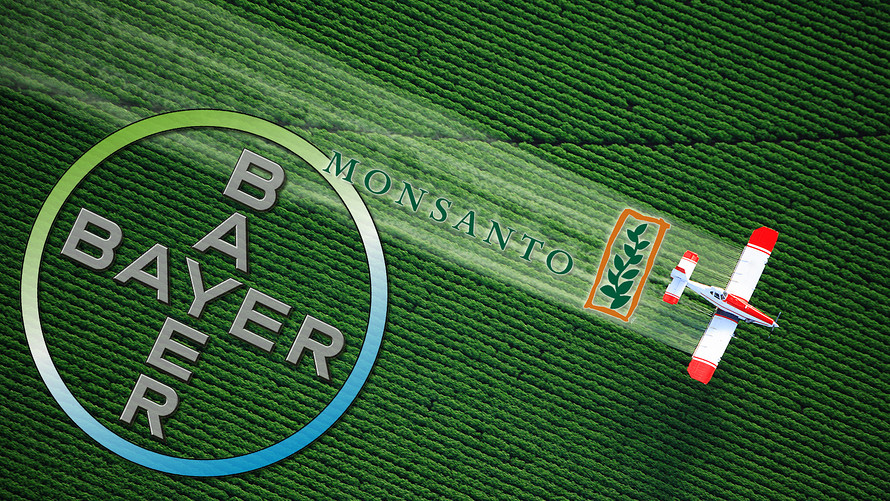 Chief Executive Werner Baumann is under pressure to boost Bayer's share price after a drop of more than 35 percent so far this year, dragged down by concern over more than 9,000 lawsuits it faces over the cancer-causing effect of Monsanto's Roundup weed killer.
Sustainable Pulse Director, Henry Rowlands, commented on the shocking news on Thursday; "This just shows what happens when a company doesn't do its homework before making a huge investment. Bayer will struggle to recover from the Monsanto fiasco and investors in the company are obviously now very concerned. The only way out of this mess for Bayer is to stop selling glyphosate-based herbicides."
The group said it was looking at options – that could include a sale – for the Coppertone sunscreen and Dr. Scholl's foot care products from the consumer healthcare division it bought from Merck & Co in 2014 for $14 billion.
It will also divest its animal health division, the number five player in the industry, which analysts have said could fetch 6-7 billion euros ($7.9 billion).
Glyphosate Box
Glyphosate Residue Free Certification for Food Brands – Click Here
Test Your Food and Water at Home for Glyphosate – Click Here
Test Your Hair for Glyphosate and other Pesticides – Click Here to Find Out Your Long-Term Exposure
The unit, the largest maker of flea and tick control products for cats and dogs and a supplier of livestock veterinary drugs, had sales of 1.57 billion euros in 2017, accounting for about 4.5 percent of group revenues.
Bayer will also seek a buyer for its 60-percent stake in German chemical production site services provider Currenta.
This post appeared first at Sustainable Pulse
---
---
(TLB) published this article from Sustainable Pulse with our sincere appreciation for the coverage of this most important issue.
Sustainable Pulse provides the general public with the latest global news on GMOs, Sustainable Food and Sustainable Agriculture from our network of worldwide sources.
••••
The Liberty Beacon Project is now expanding at a near exponential rate, and for this we are grateful and excited! But we must also be practical. For 7 years we have not asked for any donations, and have built this project with our own funds as we grew. We are now experiencing ever increasing growing pains due to the large number of websites and projects we represent. So we have just installed donation buttons on our main websites and ask that you consider this when you visit them. Nothing is too small. We thank you for all your support and your considerations … (TLB)
••••

The views expressed here belong to the author and do not necessarily reflect our views and opinions.
TLB has other above the fold articles, videos and stories available by clicking on "HOME" at the top of this post. Never miss a new post, sign up for E-Mail alerts at the bottom of the Home page and get a link dropped right to your in-box.
TheLibertyBeacon.com contains copyrighted material the use of which has not always been specifically authorized by the copyright owner. We are making such material available to our readers under the provisions of "fair use" in an effort to advance a better understanding of political, economic and social issues. The material on this site is distributed without profit to those who have expressed a prior interest in receiving it for research and educational purposes. If you wish to use copyrighted material for purposes other than "fair use" you must request permission from the copyright owner.
Be the first to comment