Recount Looms In Florida Republican Victories As Suspicions About Possible Vote-Tampering Emerge
by Tyler Durden
In an election challenge that's conjuring up nightmarish images of hanging chads, butterfly ballots and George W Bush's 537-vote margin of victory in the 2000 presidential election, it's looks increasingly likely that Republicans' narrow victories on Tuesday in Florida's senatorial in gubernatorial races could be headed for a recount.
Florida Gov. Rick Scott defeated Democratic Senator Bill Nelson for his US Senate Seat. And Tallahassee Mayor Andrew Gillum conceded defeat to Ron DeSantis in the state's gubernatorial race. But as votes continue to be tallied, it's looking increasingly likely that the Senate race could be headed for a hand recount – and the governor's race could be headed for a machine recount, in accordance with Florida law, as CNN reported.
Sen. Bill Nelson's re-election bid is likely headed to a hand recount given that the incumbent Democrat now trails Florida Gov. Rick Scott by 17,000 votes, within the .25% margin required for a hand recount. Nelson's campaign aides believe he will emerge victorious once all the ballots are counted.

And on the governor's side, Democrat Andrew Gillum – after conceding the race on Tuesday evening – has grown more supportive of a recount of late, in part because his deficit to Republican Ron DeSantis is down to 38,000 votes, within the .5% needed for a machine recount. Campaign aides, though, remain clear eyed about the the long odds that Gillum can make up that deficit.

Recounts, which have not officially been authorized in either race, put the outcome of two of the most closely watched races of 2018 on hold, with Democrats hoping for a miracle that could get both Gillum, a candidate who garnered considerable attention in his campaign against DeSantis, and Nelson, an incumbent who Democrats had thought would win his seat going into Tuesday night, over the finish line with a win.

"On Tuesday night, the Gillum for Governor campaign operated with the best information available about the number of outstanding ballots left to count. Since that time, it has become clear there are many more uncounted ballots than was originally reported," Gillum's communications director Johanna Cervone said in a statement. "Mayor Gillum started his campaign for the people, and we are committed to ensuring every single vote in Florida is counted."

At no point in the statement, though, did Gillum's campaign withdraw the concession and sources close to the mayor highlight that his outlook hasn't changed since his Tuesday night speech. It it is important to Gillum, these sources said, that his supporters know they are fighting for every vote.

"We want every vote counted, we believe that there are still votes out there for Mayor Gillum and we want to make sure his supporters know we are fighting for every vote," one source said.

Gillum and DeSantis have not talked since election night, the source added. Gillum told supporters on Tuesday that he talked to DeSantis and "congratulated him on what we expect will be him as the next governor of the great state of Florida."
In some parts of the state, controversies surrounding the still-unfinished vote tallies are beginning to draw national attention, specifically in Broward County and Palm Beach County, where elections officials were still counting votes on Thursday, according to the Sun Sentinel. Because of questions surrounding why more than 24,000 people voted for governor, but not for Senator, in Broward, recounts could be coming in both of those races, as well as the race for state Agriculture Commissioner.
But that discrepancy isn't the only evidence that something might be amiss in Broward County. On Twitter, Marc Caputo pointed out that a teacher at a local elementary school reportedly found a box marked provisional ballots that was left behind from election day. She hasn't opened it for fear of accidentally tampering with the vote totals.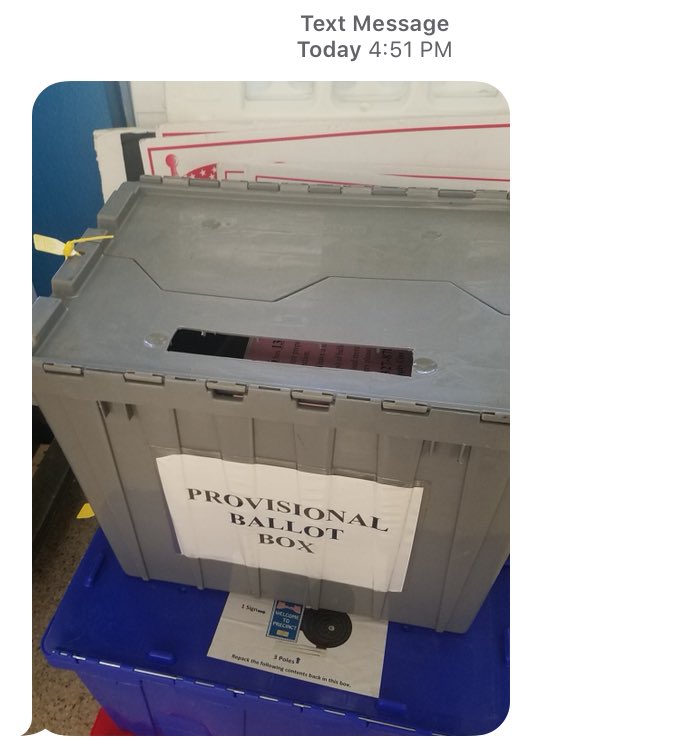 (TLB) published this story from ZeroHedge as compiled by Tyler Durden with our thanks for the coverage. 
••••
The Liberty Beacon Project is now expanding at a near exponential rate, and for this we are grateful and excited! But we must also be practical. For 7 years we have not asked for any donations, and have built this project with our own funds as we grew. We are now experiencing ever increasing growing pains due to the large number of websites and projects we represent. So we have just installed donation buttons on our main websites and ask that you consider this when you visit them. Nothing is too small. We thank you for all your support and your considerations … (TLB)
••••

The views expressed here belong to the author and do not necessarily reflect our views and opinions.
TLB has other above the fold articles, videos and stories available by clicking on "HOME" at the top of this post. Never miss a new post, sign up for E-Mail alerts at the bottom of the Home page and get a link dropped right to your in-box.
TheLibertyBeacon.com contains copyrighted material the use of which has not always been specifically authorized by the copyright owner. We are making such material available to our readers under the provisions of "fair use" in an effort to advance a better understanding of political, economic and social issues. The material on this site is distributed without profit to those who have expressed a prior interest in receiving it for research and educational purposes. If you wish to use copyrighted material for purposes other than "fair use" you must request permission from the copyright owner.
Be the first to comment