While Corporate Scientists Play God … The Planet is Dying
"The arrogance or blatant lack of conscience of corporate scientists never ceases to amaze me … NEVER! But the catastrophe that arrogance pushes us towards … swiftly approaches"
This planet had the perfect balance of nature with everything in harmony with that very nature … until big profit driven corporations decided they could do it better. Billions of years of trial and error where needed to strike this perfect balance and corporate scientists once again have decided in the comparative time of the blink of an eye … they have a better solution … REALLY ???
Everything these corporate cabals attempt to do better than nature is blowing up in our proverbial faces.
Big Parma's Vaccines to make us immune from disease are introducing new diseases and wreaking havoc on our immune systems making us susceptible to other dysfunctions we never suffered from prior to their mass use.
Biotech's GMOs and toxic chemicals are proving to be an absolute failure, with scientist screaming from across the globe that we are poisoning the biosphere and sterilizing humanity.
Big Energy's Nuclear power … touted as the clean, cheap, modern energy source for humanity is turning into the biggest curse on this planet's biosphere and all mankind.
Then there is Geo-engineering which is by far the quickest path to the destruction of all life on this planet.
All of this is known, fact, reality, but we are carelessly charging forward at neck breaking speed in the utilization and proliferation of all of these mechanisms. All of this is long past being a guess with thousands of peer reviewed papers and studies attesting to the absolute facts … yet we seem helpless to stop it.
Those who feel it is there right to play God and exercise ultimate control over this planet have lost their minds. They truly believe that in the interest of profit, and as a result power, they can do anything, fix anything, but their track record is dismal at best and fatal at worst.
So lets focus on the bees … the pollinators …
One of the key species to the survival of this planet's biosphere, and so by default, humanity. As the bees continue to die off by the millions, corporate scientists eager to exploit this onrushing disaster, are constructing their robotic, computerized counterparts or replacements.
There are so many things that can go wrong with this scenario, so many unconsidered variables such as an EMP pulse (man made or solar flare (CME)) which could destroy an entire fields or colonies of robotic computerized bees in a seconds time.
As with GMOs or vaccines, there is so much untested or unproven technology or unconsidered ramifications, that will never be realized until we are well beyond the point of no return.
The bees described in the attached 2014 article are very close to reality with researchers predicting less than a decade to possible wide scale implementation. So rather than mend their ways, stop spraying deadly biotoxins such as Glyphosate, and backing off to allow this ailing planet and the bees time to mend … they will once again, in all their arrogance … play God …
These ideas always sound good when presented to the masses, but as the long term ramification unfold, we are left to realize the utter catastrophes we are facing. When will we decide their rein is over … when there is no biosphere left to save, when our children can only look to a future of humanity moving uncontrollably towards extinction, with no possibility of reprieve? Because that reality becomes more certain every day we allow them to proceed down this path!
GOD HELP US ALL !!!
Please continue reading the attached article for more information and perspective …
••••
Millions of these robotic bees may roam the world in the near future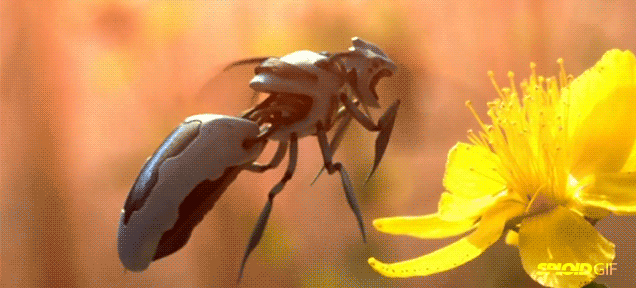 By: Lesus Diaz.
This science-fiction infomercial was made to raise awareness of the fact that bees—which are crucial for the survival of all species, including ours*—are dying all around the world. The fact is that this video isn't too far from the truth: bees may go extinct if we don't act promptly and scientists are already working on robotic replacements.
Scientists at Harvard University have already created the alpha version of these robotic bees, created for "rescue operations and artificial pollination."
And while their RoboBee may seem too far away from the one in the video, I can see the latter happening in a couple of decades thanks to the our fast progress in nano-robotics and new material development. But maybe—just maybe—we should try to save the real bees first?
• Did you know that more than a third of our food depends on bee pollination?
••••
About the Author: Roger Landry (TLB) spent about three decades of his adult life either in, or working for the military, with about two decades working directly for the Military Industrial Complex facilitating DOD contracts. His awakening to Political, Economic, and Health realities was less than seven short years ago. Since that time he has founded The Liberty Beacon Project (TLB) consisting of over a dozen proprietary global websites, media projects such as TLBTV, and partner websites across the planet. He contributes regularly to multiple forums both in and outside of TLB Project. Most of his work can be found on the TLB Flagship website TheLibertyBeacon.com
••••
Click on the image below to visit TLB Project on twitter …