Russia to stop exporting titanium to Boeing in counter-sanctions against US – draft law
via RT/Business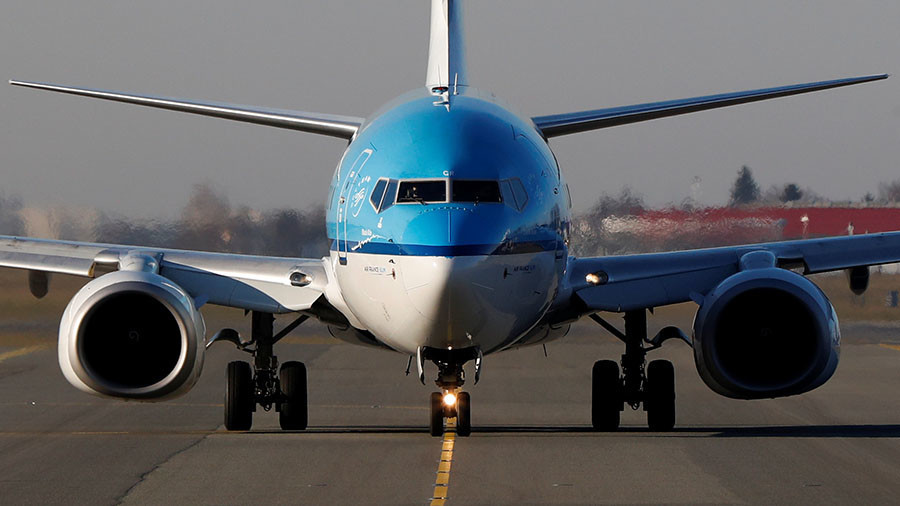 Russia's Federation Council is looking to adopt counter-sanctions against the US, under which the country may ban exports of titanium components to aircraft giant Boeing, according to Russian Senator Sergey Ryabukhin.
"Among the rare earth metals that Russia supplies to the United States is titanium, which is necessary for the technological cycle of production of Boeing," Ryabukhin told RIA Novosti.
Russia could also ban the supply of RD-180 engines used by NASA and the Pentagon, the senator added.
"These rocket engines are used not only by NASA, but also by the Pentagon on their satellites. It means the US uses these rocket engines to launch their military satellites," he said.
Russia 'should plan for US pulling out of Int'l Space Station' https://on.rt.com/87zu 
Russia 'should plan for US pulling out of Int'l Space Station' — RT World News
US-Russian relations may deteriorate to the point where the US chooses to pull out of space cooperation, particularly the International Space Station (ISS) program, an expert warned, adding that…
rt.com
---
Earlier on Friday, Russian deputies announced an upcoming response to the American sanctions imposed last week. According to State Duma Vice Speaker Ivan Melnikov, the Russian response would include ending cooperation with the US in the nuclear industry, aircraft building and airspace.
"Russia is able 'to annoy' the US by stopping or severely restricting cooperation in outer space, or by cutting supplies of components for Boeing aircraft, [and] close the supply of titanium," said Petr Pushkarev, chief analyst of TeleTrade.
Under the proposed response by the Russian government, the US and its allies could also be banned from participating in Russian privatization deals. At the moment, the list of legal entities that can organize privatization transactions in Russia includes Goldman Sachs, JP Morgan, Credit Suisse, Morgan Stanley, BNP Paribas, UBS, Citi and several other foreign banks.
Russia may also limit the supply of drugs, tobacco and alcohol from the United States.
---
But muh tariff tantrums !!!! https://www.rt.com/business/423891-rusal-sanctions-blowup-aluminium-market/ …
Global metals market in limbo as US crushes major Russian aluminum producer — RT Business News
The inclusion of Russia's aluminum giant RUSAL on the US sanctions list may significantly alter the metals market, threatening to break global supply chains and spark a deficit in the crucial…
rt.com
---
As of last year, 40 percent of Russian titanium aircraft parts were sold to Boeing and 60 percent to its European rival Airbus, according to a spokesman for Russia's Rostec corporation.
"We have a joint venture with American Boeing. It is located in the Urals, in Verkhnyaya Salda, where products are manufactured using absolutely unique technologies. We supply not titanium, but finished titanium parts. And the know-how belongs to the Russian side," Viktor Kladov told Rossiyskaya Gazeta at the time.
Russian presidential spokesman Dmitry Peskov said the Kremlin will analyze the bill, but no definitive answer about its introduction can be given yet. "We need time to analyze the point of view of Russian lawmakers who initiated the bill, in order to formulate some position later," Peskov told journalists on Friday.
*********
TLB published this report from RT/Business with our gratitude for making it available.
••••
The Liberty Beacon Project is now expanding at a near exponential rate, and for this we are grateful and excited! But we must also be practical. For 7 years we have not asked for any donations, and have built this project with our own funds as we grew. We are now experiencing ever increasing growing pains due to the large number of websites and projects we represent. So we have just installed donation buttons on our main websites and ask that you consider this when you visit them. Nothing is too small. We thank you for all your support and your considerations … TLB
••••

The views expressed here belong to the author and do not necessarily reflect our views and opinions.
TLB has other above the fold articles, videos and stories available by clicking on "HOME" at the top of this post. Never miss a new post, sign up for E-Mail alerts at the bottom of the Home page and get a link dropped right to your in-box.
TheLibertyBeacon.com contains copyrighted material the use of which has not always been specifically authorized by the copyright owner. We are making such material available to our readers under the provisions of "fair use" in an effort to advance a better understanding of political, economic and social issues. The material on this site is distributed without profit to those who have expressed a prior interest in receiving it for research and educational purposes. If you wish to use copyrighted material for purposes other than "fair use" you must request permission from the copyright owner.
Be the first to comment