No new indictments. Mueller concludes Russiagate probe.
by TLB Staff
The "nothing burger" of the Russiagate investigation was delivered by Robert Mueller to the DOJ Friday afternoon. AG William Barr will now do his review and make a decision as to what will be made available to the public.
Of note, Barr told Congress in a letter that Mueller did not overreach his mandate during his investigation….
Don Jr. weighed in…
Well that's going to make it a bit harder for the MSM and Dems to spin but they'll do it anyway.
---
DOJ letter says there was not a single time Mueller was blocked from an action he wanted to take. https://twitter.com/davidjoachim/status/1109201300040962054 …
---
According to CNN's Laura Jarrett   "The expectation is that lawmakers will receive the principal conclusions, in writing, from Barr this weekend, according to a Justice Department official. That distillation from Barr will be made public, says the Justice official."
The White House does not have the report, according to a Justice official. The attorney general's chief of staff called White House lawyer Emmet Flood and read the information in Bill Barr's letter to the Hill, per @LauraAJarrett https://t.co/Ern2ubIUPc

— Manu Raju (@mkraju) March 22, 2019
As expected the Dems want to control the narrative, but it is just not working out that way….
MORE: House Speaker Pelosi and Senate Democratic leader Schumer say Barr must not give the White House a sneak preview of the Mueller report and that it must not interfere in what parts of it are made public http://reut.rs/2JxgNuw pic.twitter.com/mfjy8OubRA
Old Chuck: We need legislation to protect Bob Mueller.

New Chuck: I don't know about that Mueller guy. I need to see his entire report that I'm not legally entitled to see. #CollusionTruthers
Right up until yesterday the Libs of note were banking on Mueller to deliver Donald Trump's head to them on 'on a Platter'….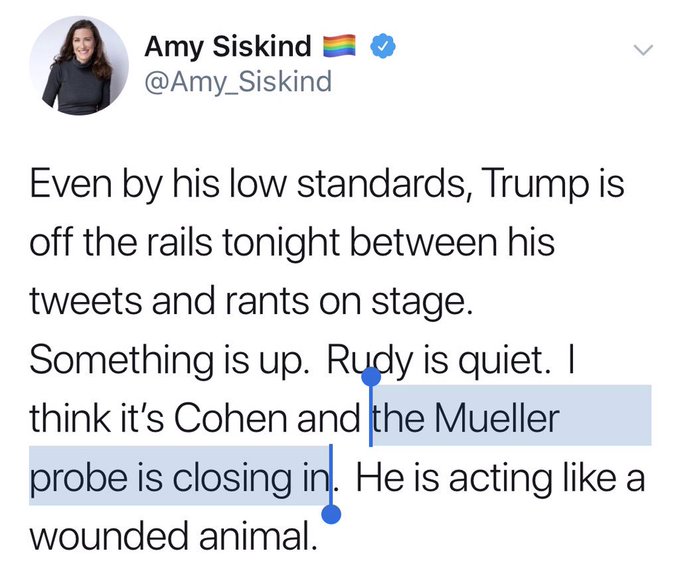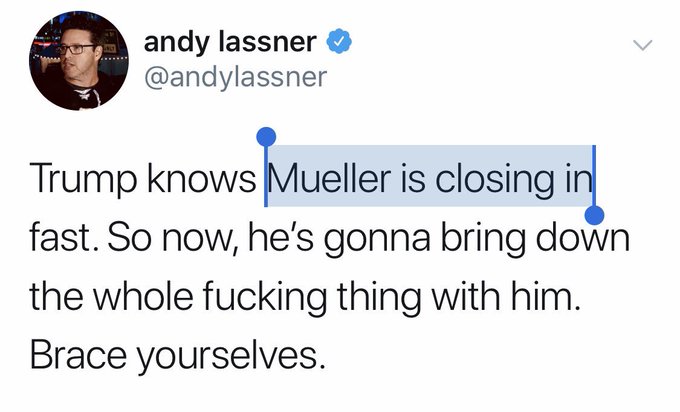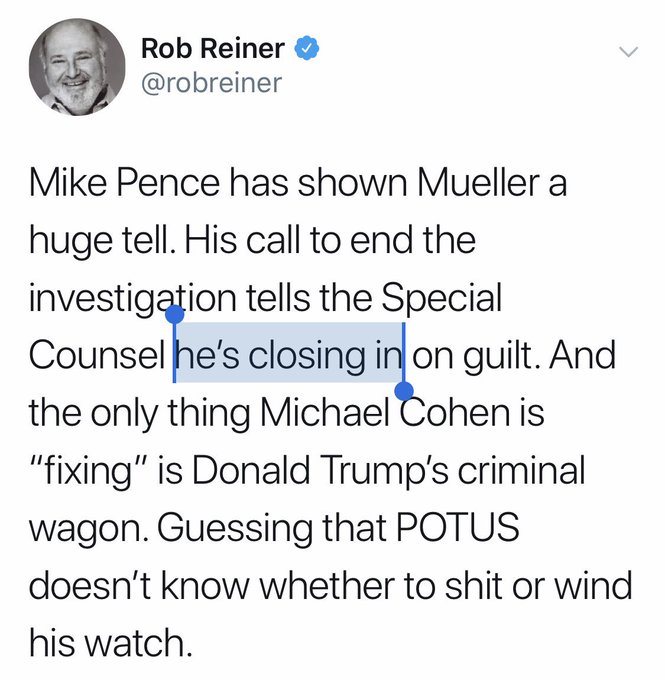 (H/T to John for the above Tweets. ~TLB)
The only "walls that are closing in" are The Walls of Truth… THERE WAS NO COLLUSION!
Being Russia played such a 'leading part' in this melodrama it's only fair to see how this story was reported at RT….
No new indictments!? Mueller concludes Russiagate probe, Dems demand 'underlying evidence'
After two years investigating President Donald Trump's alleged 'collusion' with Russia during the 2016 elections, Special Counsel Robert Mueller has at last delivered his final report to Attorney General William Barr for review.
The Attorney General has yet to communicate the findings to the US Congress and decide how much detail would be made public. The White House has not yet received or been briefed on the findings, but the administration is "looking forward to the process taking its course."
The Democrats, who have spent years pushing the Russiagate narrative, have urged the AG not to share the report's conclusions with the White House yet, claiming that, otherwise, the administration would try to interfere in which parts of the report are made public. The Speaker of the House, Nancy Pelosi, and Chuck Schumer, a senior Democratic Senator from New York, say it is imperative that the report is released in "full."
Trump, confident that the entire affair was a mere 'witch-hunt', had earlier indicated he would not mind if the report were made public, so it is unclear why the Democrats would assume the White House wants to interfere. Donald Trump's legal team said the president was "pleased"that Mueller has finally delivered on his probe, noting that the Attorney General "will determine the appropriate next steps."
"I remain committed to as much transparency as possible, and I will keep you informed as to the status of my review," Barr wrote, in a letter to the leaders of the House and Senate Judiciary committees. The Attorney General also noted that he may advise on the findings of the report as early as this weekend.
The parts of the media that spent 2 years obsessing on Trump/Russia are now going to seamlessly pretend it was always unimportant whether Mueller indicted any Americans for conspiring with Russia over the election – when that was the key point all along & everyone knows this: https://t.co/oRiYPlUNnc

— Glenn Greenwald (@ggreenwald) March 22, 2019
The key question Mueller was trying to answer was whether the Trump campaign had colluded with Russia's alleged attempt to sway the results of the US presidential elections back in 2016. Since his appointment as special counsel to head the investigation back in May 2017, the former FBI chief has managed to indict six former presidential advisers, 26 Russian nationals and three Russian companies – yet none of the charges proved any 'collusion' between Trump and Moscow.
Although a handful of key Trump associates, including former campaign manager Paul Manafort and Republican operative Roger Stone, have been charged and have even pleaded guilty to procedural crimes, nobody has been charged with any offenses relating to collusion.
***
The report might prove a further disappointment to many as, according to a senior Justice Department official, Mueller is not recommending any additional indictments. Apparently not holding his breath for any smoking guns in the report, the chairman of the House Intelligence Committee, Rep. Adam Schiff, has promised to subpoena Mueller himself, unless the Congress is provided with "underlying evidence" to sift through.
---
J. K. Rowling confirms that Harry Potter would have wanted the underlying documents to the Mueller report made public as well.
***
ChristianO 

@thebigchris69

I think the only logical next step here is to advance a new conspiracy theory that Mueller colluded with the Russians
There is a restaurant called Muller in Moscow, what more evidence do you need Mueller is a Russian mole.
Moscow has repeatedly rejected the allegations as absurd, emphasizing that, in contrast to what Washington might consider a modus operandi, it is not Russia's state policy to interfere with other nations' domestic affairs, and also noting that it was ridiculous and humiliating for a democratic superpower to complain that its elections were somehow influenced from outside.  (RT-USA News)
*********
This article was compiled and commented on by The Liberty Beacon staff.
References:
CNN, Laura Jarrett, Twitter, JohnWHuber, ZeroHedge, and RT-USA
••••
••••
The Liberty Beacon Project is now expanding at a near exponential rate, and for this we are grateful and excited! But we must also be practical. For 7 years we have not asked for any donations, and have built this project with our own funds as we grew. We are now experiencing ever increasing growing pains due to the large number of websites and projects we represent. So we have just installed donation buttons on our websites and ask that you consider this when you visit them. Nothing is too small. We thank you for all your support and your considerations … (TLB)

••••

Comment Policy: As a privately owned web site, we reserve the right to remove comments that contain spam, advertising, vulgarity, threats of violence, racism, or personal/abusive attacks on other users. This also applies to trolling, the use of more than one alias, or just intentional mischief. Enforcement of this policy is at the discretion of this websites administrators. Repeat offenders may be blocked or permanently banned without prior warning.
••••
Disclaimer: The Liberty Beacon contains copyrighted material the use of which has not always been specifically authorized by the copyright owner. We are making such material available to our readers under the provisions of "fair use" in an effort to advance a better understanding of political, health, economic and social issues. The material on this site is distributed without profit to those who have expressed a prior interest in receiving it for research and educational purposes. If you wish to use copyrighted material for purposes other than "fair use" you must request permission from the copyright owner.
••••