UK Judge Rules Julian Assange Can't Be Extradited To US
Assange could finally be free (for the first time since 2012) shortly ~(TLB) ed.
ZeroHedge
In a historic ruling that some say could help protect press freedoms in the US, a British judge has ruled that Wikileaks founder Julian Assange can't be extradited to the US.
The New York Times described the ruling as "…a major victory against the U.S. authorities who have accused him of conspiring to hack government computers and violating the Espionage Act with the release of confidential communications in 2010 and 2011."
Assange was dramatically arrested in April 2019 inside the Ecuadorian embassy in London following 7 years spent in hiding there as authorities pursued him on alleged sexual assault charges linked to his time in Sweden. While that investigation was dropped years ago (though Sweden formally reopened it following news that Assange was in custody before being dropped once again) it was revealed that his arrest in London was tied to an extradition request filed by the US. For years, prosecutors had been quietly pursuing their case against Assange.
The charges were soon revealed: the 49-year-old Assange is facing 17 counts of violating the Espionage Act for his role in publishing leaked military documents and cables. He was also charged with one count of violating the Computers Fraud and Abuse Act. All told, he could face 175 years in an American jail. Back in June, US prosecutors published an expanded indictment, which caused even more consternation for Assange's defense team.
Though, now that a British judge has ruled that he can't be extradited, it's possible that he may never actually return to the US to face the charges against him. Though the Judge, Vanessa Baraitser (FaceBook picture) of the Westminster Magistrates' Court, said she had no problems with the US case against Assange, she ruled that extradition would pose a serious threat to Assange's health. Though she said the case appeared to be brought in "good faith", and that Assange's actions went beyond simply encouraging a journalist, the judge ruled extradition could have a seriously negative impact on Assange's health. For example, she found "Mr. Assange's risk of committing suicide, if an extradition order were to be made, to be substantial."
Assange's supporters and legal team have long warned about his deteriorating health in confinement, and photos of a sallow and decidedly unhealthy looking Assange have filtered out through the press. Back in 2019, the UN's special rapporteur on torture and ill treatment declared that Assange's confinement amounted to "psychological torture". He is being held at Belmarsh, a high-security prison in London, where he has been awaiting the extradition ruling.
A crowd of supporters gathered outside the court for Monday's ruling cheered the news.
Read the full 130-page indictment below:
USA -V- Julian Assange Judgment by Zerohedge on Scribd
---
And here's the annex with expanded witness testimony:
USA -V- Julian Assange Annex by Zerohedge on Scribd
---
The legal battle over Assange is nearing its one-decade mark (if one starts counting on the day he first sought refuge in the Ecuadorian Embassy). The cables and other embarrassing documents were leaked to Wikileaks and Assange by Chelsea Manning, who was convicted in 2013 in a military tribunal and sentenced to decades behind bars. She was imprisoned between 2010 and 2017, before her sentence was commuted by outgoing President Barack Obama.
To be sure, today's ruling isn't the last word. The US authorities now have 15 days to appeal the ruling, which is expected. Ultimately, in her ruling, the judge rejected the defense's argument, and validated the points made by the prosecution, so if an appeal is filed, the court will likely explore whether the health concerns (risk of suicide), truly are as pressing as Judge Baraitser believes.
In a series of tweets on the ruling, Glenn Greenwald (Screen grab above) hailed the decision as "great news", but pointed out that the judge still essentially validated the arguments being made by the US prosecutors. The judge instead ruled that the US prison system is too inhumane to justify extraditing anybody to face a potentially lengthy sentence in an American prison.
Greenwald also confirmed that Assange's legal team intends to apply for bail, which means Assange could finally be free (for the first time since 2012) shortly.
The US DOJ has already said it intends to appeal. The question — and I'm hearing different things on this — is whether the courts will keep Assange imprisoned while that appeal is pending. The court ordered him released, but it's unclear if the DOJ appeal will keep him in jail.

— Glenn Greenwald (@ggreenwald) January 4, 2021
This wasn't a victory for press freedom. Quite the contrary: the judge made clear she believed there are grounds to prosecute Assange in connection with the 2010 publication.
It was, instead, an indictment of the insanely oppressive US prison system for security "threats."
— Glenn Greenwald (@ggreenwald) January 4, 2021
---
Glenn Greenwald
@ggreenwald
Ultimately, though, from a humanitarian *and* a political perspective, what matters most is that Assange be freed as soon as possible. The US Govt doesn't care what prison he's in, or why: they just want him silenced and in a cage. He should be freed immediately.
Glenn Greenwald
@ggreenwald
The full ruling is at the link. Savor the last, sweet paragraph.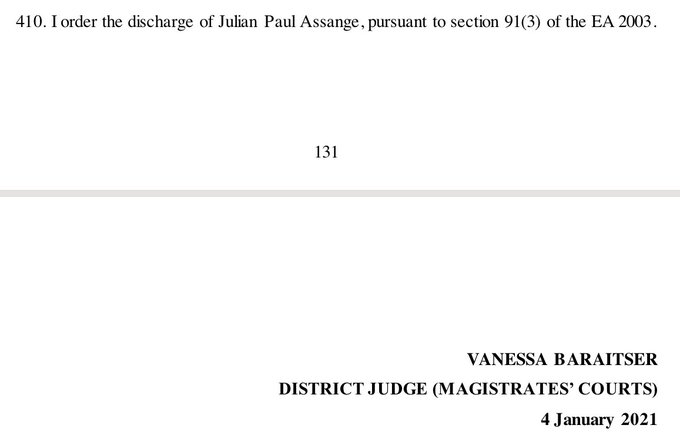 ---

But an even bigger question now, with extradition seemingly off the table, will President Trump decide upon a last-minute pardon for Assange, as many of Assange's supporters have pleaded with him to do.
**********
(TLB) published this article from ZeroHedge as compiled and commented on by Tyler Durden.
Emphasis and pictorial content added by (TLB)
••••

••••
Stay tuned to …

••••
The Liberty Beacon Project is now expanding at a near exponential rate, and for this we are grateful and excited! But we must also be practical. For 7 years we have not asked for any donations, and have built this project with our own funds as we grew. We are now experiencing ever increasing growing pains due to the large number of websites and projects we represent. So we have just installed donation buttons on our websites and ask that you consider this when you visit them. Nothing is too small. We thank you for all your support and your considerations … (TLB)
••••
Comment Policy: As a privately owned web site, we reserve the right to remove comments that contain spam, advertising, vulgarity, threats of violence, racism, or personal/abusive attacks on other users. This also applies to trolling, the use of more than one alias, or just intentional mischief. Enforcement of this policy is at the discretion of this websites administrators. Repeat offenders may be blocked or permanently banned without prior warning.
••••
Disclaimer: TLB websites contain copyrighted material the use of which has not always been specifically authorized by the copyright owner. We are making such material available to our readers under the provisions of "fair use" in an effort to advance a better understanding of political, health, economic and social issues. The material on this site is distributed without profit to those who have expressed a prior interest in receiving it for research and educational purposes. If you wish to use copyrighted material for purposes other than "fair use" you must request permission from the copyright owner.
••••
Disclaimer: The information and opinions shared are for informational purposes only including, but not limited to, text, graphics, images and other material are not intended as medical advice or instruction. Nothing mentioned is intended to be a substitute for professional medical advice, diagnosis or treatment.