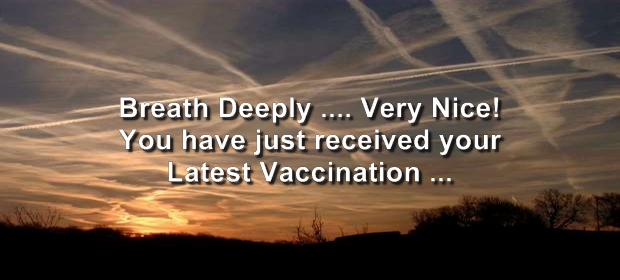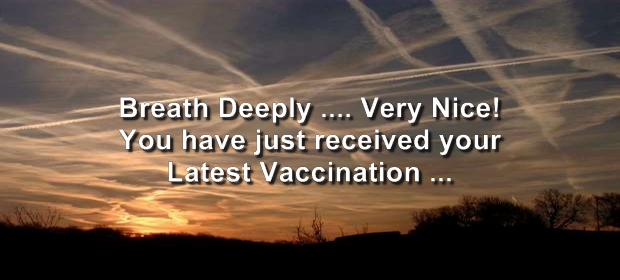 Updated on 11/27/14, Originally published in March 2014
So you refuse to get vaccinated, and will never allow vaccines in the system of the children you love and care for so much … Hmmm, sorry but you have little choice in the matter. No I am not talking about mandatory or forced vaccinations … Look … up in the sky … it's a bird … it's a plane … no … it's a delivery system for vaccines that you are not even aware of, never agreed to, and probably never would consent to, but your consent is not sought and was never considered!
Sure you can avoid vaccines by saying no to your doctor while withstanding his browbeating and derogatory comments, by finding employment with a company that does not make them a condition of employment, by not putting your children in daycare or by home schooling them … BUT YOU DO HAVE TO BREATH … GOTCHA … !!!
TLB has propagated a lot of information heralding the use of GMO foods  as an alternative delivery system for vaccines, but also using atmospheric spraying (chemtrails) to bypass the rising awareness and push-back of people like you and I, is a subject we do not discuss enough, and it is a reality. You WILL be subjected to the mechanism of vaccines whether you like it or not!
Read more here: Vaccines – Watch Out for Flying Syringes, GMO Food Vaccines, and Forced Vaccinations
Over the past decade, independent testing of the chemical fallout of atmospheric spraying (chemtrails) around the country has shown a dangerous and extremely poisonous brew that includes (but is not limited to): nano sized aluminum particles, mercury (yea I said that), radioactive thorium, cadmium, chromium, nickel, desiccated blood (which may or may not contain a myriad of specific viruses), barium, mold spores, yellow fungal mycotoxins, ethylene dibromide and  other unidentified organic materials.
Put aside for a moment the extreme danger of these nano sized particles of extremely toxic metals we are breathing in (you literally have no choice), and the fact that our fluoridated water facilitates the movement of these toxic metals across the blood brain barrier (FACT) and consider this – Look at the (I'm sure incomplete) list of ingredients found by validated independent testing of Chemtrail fallout and tell me … do you recognize any from your research of vaccine ingredients? Do you believe this to be just a coincidence? Why do you need desiccated blood (which may or may not contain a myriad of specific viruses), mercury, mold spores, yellow fungal mycotoxins, ethylene dibromide and other unidentified organic materials to reflect sunlight and cool the earth as is the stated mission of atmospheric spraying or Geo-Engineering … answer … YOU DON'T!
Attached you will find a comprehensive article first published in 2012 that ought to have raised some serious concerns in all of us. This is something we should be discussing in earnest now, but we are not!  Why, because this is not public knowledge and is not even widely disseminated among those of us who push back so hard against the evil of vaccines and it surely needs to be! This article will go much further in explaining the relatively unknown (to most of the uneducated or unaware public) mechanisms for the delivery of vaccines.
This isn't only happening in America … Australians and others are under attack as well! http://www.godlikeproductions.com/forum1/message2427283/pg1
The questions are no longer "Are we being sprayed" or "What are we being sprayed with" but have morphed into "What are the health risks associated with this poison cocktail raining down from above" and "WHY" …
… READ MORE …
___________________________________________________
Look Up: The New Age of Inoculation Is Aerial Vaccines and Nano Delivery Systems
By: Dave Mihalovic
As the masses enjoy a steady awakening regarding the dangers and fraud that are vaccinations, the use of aerial vaccines and nano delivery systems are now being utilized and fully implemented by governments with little regard or consequence to human health.
Geoengineering initiatives (commonly referred to as chemtrails) are no longer considered discreet military operations, and are finally admitted by goverments. Aerial vaccines and nano delivery systems are one of many geoengineering projects.
The use of aerial manned and unmanned vehicles for the aerial spraying under State and Federal mandates for vector control began under the Geneva Act for Chemical and Biological Weapons in 1949. Over the years since its inception many amendments to this act and US parallel acts such as the Patriot Act of 2001, Space Preservation Act of 2001 and Weather Modification Research and Technology Act of 2005 have included the following implementations under terrorist and riot control for aerial spraying of the mass population in selective city locations:
– Weather Modification. – Vector Control (insects, virus, and other similar vectors). – Mass Inoculations of the Public.
Aerial vaccines are also directed towards animals by the use of plastic packets dropped by planes or helicopters. Sanofi (who is one of the largest vaccine manufacturers in the world) has subsidiary companies such as Merial Limited who manufacture Raboral, an oral live-virus poisonous to humans yet distributed wildlife in the masses. "In the United States, more than 12 million doses of RABORAL V-RG vaccine are used each year. Since the first use of RABORAL V-RG in the late 1980's, more than 100 million doses have been distributed around the world." At the beginning of the year, a KVUE news report indicated that the Texas Department of State Health Services would initiate an aerial vaccine drop of 1.8 million doses in January alone. Raboral V-RG is a poison because according to the material safety data sheet its ingestion, parenteral inoculation, droplet or aerosol exposure to mucous membranes or on broken skin is considered a health hazard exposed to infectious fluids or tissues.
In August 2009, during a similar autumn Raboral V-RG baiting campaign in western Pennsylvania, a woman aged 35 years who was taking immunosuppressive medication for inflammatory bowel disease contacted the Pennsylvania Department of Health (PADOH) after handling a ruptured bait, which had leaked liquid rabies vaccine onto a patch of abraded skin on her right hand. The patient subsequently developed vaccinia virus infection and was treated with human vaccinia immune globulin intravenous (VIGIV) and an investigational antiviral agent.
Testing performed at CDC confirmed the presence of vaccinia virus DNA and rabies virus G protein DNA in papule material and serologic evidence of rabies virus neutralizing antibodies. On day 6 of the infection, the papules had increased in number and size, and the patient was hospitalized. On day 9, she had 26 classic vaccinia virus lesions, including one on a site on her right arm that might not have been in contact with the vaccine initially. On day 11, she experienced myalgia and headache; she had pronounced redness and edema in her right hand, accompanied by right axillary adenopathy.
A Greater Perspective on Aerial Spraying
The Defense Sciences Office of the Pathogen Countermeasures Program, in September 23, 1998 funded the University of Michigan's principal investigator, Dr. James Baker, Jr. Dr. Baker, Director of Michigan Nanotechnology Institute for Medicine and Biological Sciences under several DARPA grants. Dr. Baker developed and focused on preventing pathogens from entering the human body, which is a major goal in the development of counter measures to Biological Warfare. This research project sought to develop a composite material that will serve as a pathogen avoidance barrier and post-exposure therapeutic agent to be applied in a topical manner to the skin and mucous membranes. The composite is modeled after the immune system in that it involves redundant, non-specific and specific forms of pathogen defense and inactivation. This composite material is now utilized in many nasal vaccines and vector control through the use of hydro-gel, nanosilicon gels and actuator materials in vaccines.
Through Dr. Baker's research at the University of Michigan; he developed dendritic polymers and their application to medical and biological science. He co-developed a new vector system for gene transfer using synthetic polymers. These studies have produced striking results and have the potential to change the basis of gene transfer therapy. Dendrimers are nanometer-sized water soluble polymers that can conjugate to peptides or arbohydrates to act as decoy molecules to inhibit the binding of toxins and viruses to cells. They can act also as complex and stabilize genetic material for prolonged periods of time, as in a "time released or delayed gene transfer". Through Dr. Baker's ground breaking research many pharmaceutical and biological pesticide manufacturers can use these principles in DNA vaccines specific applications that incorporate the Simian Monkey Virus SV40.
WEST NILE VIRUS SPRAYING
In 2006 Michael Greenwood wrote an article for the Yale School of Public Health entitled, "Aerial Spraying Effectively Reduces Incidence of West Nile Virus (WNV) in Humans." The article stated that the incidence of human West Nile virus cases can be significantly reduced through large scale aerial spraying that targets adult mosquitoes, according to research by the Yale School of Public Health and the California Department of Public Health.
Under the mandate for aerial spraying for specific vectors that pose a threat to human health, aerial vaccines known as DNA Vaccine Enhancements and Recombinant Vaccine against WNV may be tested or used to "protect" the people from vector infection exposures. DNA vaccine enhancements specifically use Epstein-Barr viral capside's with multi human complement class II activators to neutralize antibodies. Â The recombinant vaccines against WNV use Rabbit Beta-globulin or the poly (A) signal of the SV40 virus. In early studies of DNA vaccines it was found that the negative result studies would go into the category of future developmental research projects in gene therapy. During the studies of poly (A) signaling of the SV40 for WNV vaccines, it was observed that WNV will lie dormant in individuals who were exposed to chicken pox, thus upon exposure to WNV aerial vaccines the potential for the release of chicken pox virus would cause a greater risk to having adult onset Shingles.
CALIFORNIA AERIAL SPRAYING for WNV and SV40
In February 2009 to present date, aerial spraying for the WNV occurred in major cities within the State of California. During spraying of Anaheim, CA a Caucasian female (age 50) was exposed to heavy spraying, while doing her daily exercise of walking several miles. Heavy helicopter activity occurred for several days in this area. After spraying, she experienced light headedness, nausea, muscle aches and increased low back pain. Â She was evaluated for toxicological mechanisms that were associated with pesticide exposure due to aerial spraying utilizing advanced biological monitoring testing. Â The test results which included protein band testing utilizing Protein Coupled Response (PCR) methods were positive for KD-45. KD-45 is the protein band for SV-40 Simian Green Monkey virus. Additional tests were performed for Epstein-Barr virus capside and Cytomeglia virus which are used in bioengineering for gene delivery systems through viral protein envelope and adenoviral protein envelope technology. The individual was positive for both; indicating a highly probable exposure to a DNA vaccination delivery system through nasal inhalation.
Pentagon Document Reveals Aerial Vaccination Plans
In the Quarterly FunVax Review in June, 2007, the report lists the objective of a project listed as ID: 149AZ2 as a preparation of a viral vector that will inhibit/decrease the expression of a specific disruption gene (VMAT2) within a human population. It further indicates in the abstract that six method of virus dispersal were tested including high altitude release, water supply release, insect transmission, and various methods of diffusion.
Nano-Microchips Inside Vaccines?
Nanotechnology deals with structures smaller than one micrometer (less than 1/30th the width of a human hair), and involves developing materials or devices within that size. To put the size of a nanometer in perspective, it is 100,000 times smaller than the width of a human hair.
The joint use of nanoelectronics, photolithography, and new biomaterials, have enabled the required manufacturing technology towards nanorobots for common medical applications, such as surgical instrumentation, diagnosis and drug delivery.
Depending on the objectives of studies, research could theoretically pave the way for smart recording electrodes that can deliver drugs to positively or negatively affect the immune response.
Through nanotechnology, researchers have also been able to create artificial pores able to transmit nanoscale materials through membranes.
A UC biomedical engineering study appearing in the journal Nature Nanotechnology, Sept. 27, 2009, successfully inserted the modified core of a nanomotor, a microscopic biological machine, into a lipid membrane. The resulting channel enabled them to move both single- and double-stranded DNA through the membrane.
Doug Dorst, a microbiologist and vaccine critic in South Wales, says these advances have an immense appeal to vaccine makers. "Biotech companies and their researchers have quickly moved most funding initiatives towards nanotechnology to increase the potency of their vaccines," he said. If microorganisms inside of vaccines can be coaxed into targeting or invading specific cells, they could achieve their goal at an accelerated rate over conventional vaccines. "Depending on which side of the vaccine debate you're on, whether pro or con, nanobots inside vaccine preparations could advance their effectiveness exponentially by either dramatically improving or destroying immunity depending on their design," he added.
Dorst claims that present day nanobot technology could just as easily be used to advance biological weapons as they can to advance human health. "For every fear that biotech propaganda proliferates about deadly diseases and how vaccines prevent them, it is one more lie to incrementally convince the masses that vaccines are effective."
The worry for Dorst is that one day vaccines "will do what they've always been intended for…control of the global populace."
We must be alert and attentive to plans for mass aerial vaccinations without informed consent. Aerial spraying for vector control is not only for pesticide applications but for aerial vaccinations of wildlife and humans as stated in US Acts and Regulations. There is a real potential risk to exposure from aerial exposure to aerial DNA virus vaccines. The risk certainly exceeds any benefits and only the public can stop this deliberate and irresponsible poisoning of populations.
Dave Mihalovic is a Naturopathic Doctor who specializes in vaccine research, cancer prevention and a natural approach to treatment.
Sources:
Information pertaining to the attached article …
See featured (attached) article here: http://preventdisease.com/news/12/011712_Look-Up-The-New-Age-of-Inoculation-is%20Aerial-Vaccines-and-Nano-Delivery-Systems.shtml
TLB recommends you visit Prevent Disease for more great/pertinent articles and information.
The views expressed here belong to the author and do not necessarily reflect our views and opinions.
TLB has other above the fold articles, videos and stories available by clicking on "HOME" at the top of this post. Never miss a new post, sign up for E-Mail alerts at the bottom of the Home page and get a link dropped right to your in-box.
TheLibertyBeacon.com contains copyrighted material the use of which has not always been specifically authorized by the copyright owner. We are making such material available to our readers under the provisions of "fair use" in an effort to advance a better understanding of political, economic and social issues. The material on this site is distributed without profit to those who have expressed a prior interest in receiving it for research and educational purposes. If you wish to use copyrighted material for purposes other than "fair use" you must request permission from the copyright owner.
13 Comments on Chemtrails Not Just for Weather Modification Anymore: Vaccines On The Wind
If you want to be taken seriously and be considered a reputable "beacon" of truth, don't use godlikeproductions as reference. They are an absolute detriment to the truth movement and absolute bs fear mongering website to whom many of the articles they have posted have been debunked. They post Sorcha Faal stories for christ sake!

The whole arena of BS associated with the chem-trails leaves out one important thing.
Karry Casidy's investigations have uncovered that the materials being sprayed are enclosing every cell in every body so the cells can not breath, literally we will be smothered to death.
As difficult as this is to hear its harder to attach it to your life, except, according to the interview there will be:

<<>>

Nano and BioAPI Phases One and Two. They tells us in the movies,cartoons and music about chemtrials, mindcontrol and Morgellons.

This site is outside the box. A must read!

Thanks, TLB….wasn't adding up.

Herald: The article was updated extensively (over 80%) on 11/27/14 … But originally published in March.

Global Plan to deplete world population and overthrow world leaders
Friday, November 26th, 2010 @ 03:00

My beloved daughter, you will be sent guidance from a spiritual director, soon. But remember, many of My followers are called by Me, but not all accept. I cannot, as you know, interfere with free will, a Gift to mankind. No matter. It is important now to continue with this urgent Work so that My children will listen and be saved.

The Signs

Make no mistake, change is afoot and shortly there will be so many signs, that there will be few people on this Earth who will fail to notice them. The signs I speak about, are those, which are being given through My visionaries, through the apparitions of My beloved Blessed Mother in Europe. Many people who open their minds, and unlock their trapped souls, will understand that this communication comes from the Heavens. When My children see the miraculous signs, which will be visible through the sun, they will then know the Truth.

Ignore the scorn, ridicule and hatred that will be shown when people read the contents of this manuscript. The same thing happened to My Apostles, who, with the Gift of the Holy Spirit, produced their Work. You too, My daughter, have been given this Gift. Never reject it or doubt it. It is real and you now know this. Your doubts, have at last, begun to fade.

I will, as I have told you, send you help. Evidence of this promise is now beginning to unfold. I will also give you information of future events, which you must reveal to all, including the disbelievers. What does it matter if they won't believe at first, because as events roll out, they will have no choice but to acknowledge the Truth?
MORE
http://www.thewarningsecondcoming.com/global-plan-to-deplete-world-population-and-overthrow-world-leaders/

All given disgust at this very real madness aside ~ if this article was just published on 11/27/14….why are there comments beginning in March 2014?

And We The People are paying for this clever poisoning. Its all done using additives to jet aviation fuel, under the guise of cost benefits to the Aviation industry. And, that toxic soup gets disbursed everywhere they fly – mostly in and around our most heavily populated areas.

The article & cause for concern is real & grave. There has to be mass awakening soon. Trolls are all around spreading their disinformation / misinformation & marginalizing real concerns. Humanity needs to awaken ASAP.

It is government doing things like this that cause violent revolutions and rightfully so!

Regarding the FunVax (Fundamentalism Vaccine) which supposedly blocks expression of VMAT2 ("the God gene") there have been people who have pointed out that the original video about that was faked. But, of course, creating an obviously fake video about a topic they want to cover up, is an effective method of shutting down discussion of the topic, because they can always say, "oh, that was debunked" but in reality, it may be very well going on.

Ignore who ? Thanks for posting a very pertinent and important, and obviously well informed article. Looking forward to Dave Hodges show with liberty beacon on.

Hi Folks,

Please ignore A, who is either a shill or completely out to lunch as to what is happening out there.
1 Trackbacks & Pingbacks