"It's A Killer" – Florida Orders A Third Of The Population To Evacuate As Irma Hurtles Toward Tampa
by Tyler Durden
Florida's highways and backroads are clogged with motorists after Gov. Rick Scott has ordered an unprecedented 6.2 million residents of central and southern Florida to evacuate. Meanwhile, Miami, along with many towns and cities along the state's southeastern coast, resembles a ghost town, according to the New York Post.
To recap: The category 4 storm has already carved a path of destruction through the Caribbean, leaving 90% or Barbuda uninhabitable and nearly a million people without power in Puerto Rico. And now, with the storm's outer bands already battering the southern part of the state, meteorologists are saying Irma has suddenly shifted westward and is now heading toward Florida's Gulf Coast – specifically, the Tampa Bay area.
Here's the Associated Press:
Forecasters expect Irma's core to come ashore Sunday and strike the Keys, southwestern Florida and the Tampa Bay region, which hasn't felt a major hurricane since 1921. The eye is expected to miss heavily-populated Miami, which may have dodged a bubble in the last minute, but that area will still get life-threatening hurricane conditions even without a direct hit, Hurricane Center spokesman Dennis Feltgen said.
---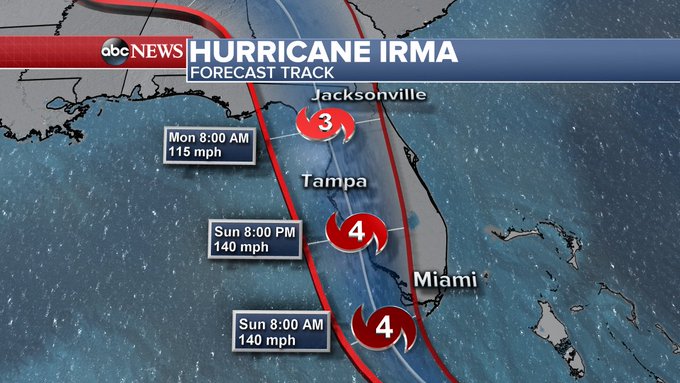 Irma weakened slightly to Category 3 with maximum sustained winds of 125 mph on Saturday morning, but it was expected to pick up strength again as it closes in on Florida.
Damaging winds bombarded Key Biscayne and Coral Gables on Saturday morning with gusts of up to 56 mph (90 kph) recorded at Virginia Key, near Miami, according to the National Weather Service.
*********
Breaking news 9/9/17 STORM SURGE THREAT INCREASES FOR FLORIDA COAST
Video added by TLB
*********
In one of the country's largest evacuations, a record 6.2 million people in Florida, or 30% of the state's population, have been ordered to leave, and another 540,000 were ordered out on the Georgia coast. Authorities opened hundreds of shelters for people who did not leave. Meanwhile, South Carolina Gov. Henry McMaster issued evacuation orders for Hilton Head Island and six of the state's other barrier islands, according to the Associated Press. Hotels as far away as Atlanta were filling up with evacuees.
[Gov.] Scott warned that those who choose to stay will be on their own, before urging everybody in the Keys to get out as fast as possible.
"If you are planning to leave and do not leave tonight, you will have to ride out this extremely dangerous storm at your own risk," Florida Gov. Rick Scott said Friday.

"It's getting late … if you're not on the road on the west coast by noon you need to get to a shelter…get off the road,"
Ray Scarborough and girlfriend Leah Etmanczyk left their home in Big Pine Key and fled north with her parents and three big dogs to stay with relatives in Orlando. Scarborough was 12 when Hurricane Andrew hit in 1992 and remembers lying on the floor in a hallway as the storm nearly ripped the roof off his house.
"'They said this one is going to be bigger than Andrew. When they told me that, that's all I needed to hear,' said Scarborough, now a 37-year-old boat captain. "That one tore everything apart."
Their house in the Keys, up on 6-foot (1.8-meter) stilts, has flooded before.
"This isn't our first rodeo. Andrew was a wicked storm. Wilma was a wicked storm. This one is going to be worse. Then we'll go home and rebuild, like we always do," said Etmanczyk, a 29-year-old teacher."
While it might take some residents along the state's gulf coast by surprise, the storm's westward shift means "a less costly, a less deadly storm," according to University of Miami. Still, forecasters warned that Irma's winds could reach from coast to coast, testing the rapid development of more stringent hurricane-proof building codes in the last decade or so.
As residents flee, streets were nearly deserted early Saturday in Palm Beach County as the first squalls hit the state's Atlantic coast. Gas stations ran out of fuel, grocery stores were closed and only a few fast-food restaurants were open.
Meanwhile, Gov. Scott took to CBS This Morning to warn residents that the storm was going to have "a big impact" on the state, calling it a "killer." for large swaths of southern and central Florida. He has ordered all schools in the state shut, and was scrambling to set up emergency shelters for residents, according to an interview with CBS This Morning.
"People are going to shelters, but I just want to make sure everybody understands this is an unbelievable, massive, destructive storm, and it's a killer," he said.
Meanwhile, some of the worst-case projections will likely leave the southernmost parts of the state uninhabitable for months. According to one forecaster, a reasonable worst case scenario has over half of Key West underwater due to storm surge.
A reasonable worst case scenario has over half of Key West underwater due to storm surge
This is why @NWSKeyWest is saying to get out #irma
---
The storm, which is presently battering parts of Cuba, is expected to make landfall early Sunday, bringing winds well over 100 miles per hour and dangerous water levels…
---
…meanwhile, Hurricane Jose – a Category 4 storm – is following closely behind.
*********
Related from The Liberty Beacon:
---